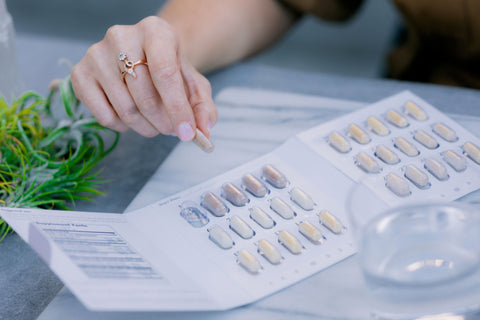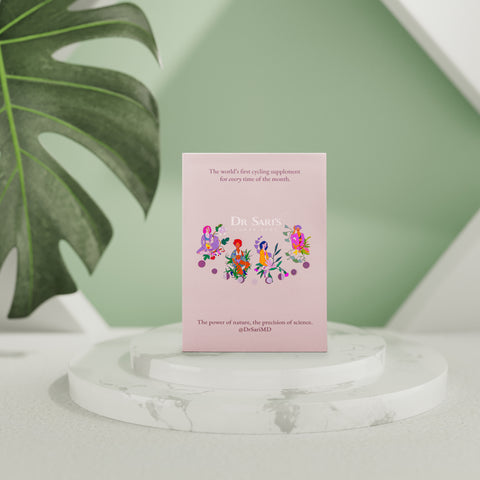 Lunar Sync
The world's first cycle syncing supplement for every phase of your menstrual cycle
Buy More, Save More: Save 15% On A 3-Month Subscription
What It Is: The world's first patented, physician-developed, and 100% natural cycle syncing supplement with a unique formula for each of the four phases of your menstrual cycle. 

Recommended Usage: One packet has you covered all month. Start with capsule #1 on the first day of your period. Take one capsule daily. Start a new pack with each with each new menstrual cycle. If you cycle but do not bleed you can alternatively start a new pack with each new moon.
Our Mission: We are on a mission to change your monthly cycle. Lunar Sync is the first system to address supplement cycling, so that you are taking the right vitamins, minerals and botanicals at the precise time and combination. This minimizes the number of individual supplements needed and treats and prevents symptoms all month long. 
Benefits of Cycle Syncing: The menstrual cycle is so much more than just the week you get your period: it's made up of four phases throughout the month, each with associated hormonal and physiologic fluctuations. Cycle syncing is an invitation to allow for, and flow with, our natural rhythm.
Lunar Sync Formulations:
Phase 1 - Menstruation: relieve cramps, reduce fatigue and improve brain fog
Phase 2 - Late Follicular: increase energy and metabolism, support thyroid and mood
Phase 3 - Ovulation & Early Luteal: alleviate moodiness and breast tenderness, support hormone balance 
Phase 4 - Late Luteal & PMS: decrease pain, inflammation, bloat and headaches
From Our Customers
Meet Your Natural Rhythm
Created to support your natural rhythm
Phase 1 - is formulated to relieve cramps, reduce fatigue and ease brain fog.
Phase 2 - is formulated to support energy, metabolism, thyroid health and mood
Phase 3 - is formulated to assist in hormone metabolism, support liver function and alleviate the mild mood changes and breast tenderness of mid-cycle
Phase 4 - is formulated to alleviate PMS mood and physical discomforts including pain, swelling and bloating
For every time of the month.
PMS Is Not A Punchline
Our patented formulations are evidence based and clinically tested.
Physician developed
100% Natural
Lunar Sync: 3 month supply
Must try
This vitamin is revolutionary! I was getting hormonal acne had cramping and looking for a product like this. I love that it's made for a woman by a female doctor, who Porter heart and soul into this product. It really shows and it really helped me along my entire cycle. Must try
Wonderful Cycle Support!
I love how the vitamins are well thought out to support you in every part of your cycle. My flow has been lighter and cramps haven't been soo terrible. It's a part of my daily routine with all my other vitamins and supplements! Worth the buy!
Life changing!
Finally one capsule to rule them all. I was so sick of trying to balance all of the supplements my body needs. This takes all the guessing out of the equation! I'm a new human! Thank you!!!
Feel Good On Your Period!
If your struggling with PMS symptoms- Lunar Sync can tremendously help. Overall my cramps, moodiness and lethargy minimized. I felt energized and didn't feel my normal PMS symptoms. I was actually surprised when my period came because my PMS symptoms were so subdued. A natural way to feel good on your period from the inside out.
The power of nature, the precision of science.
Clinical Study Results
Lunar Sync besta testers reported significant improvement in these symptoms:

decreased fluid retention